WELCOME TO 1ST WARGRAVE SCOUTS FINLAND 2016 BLOG

POST-JAMBOREE REPORT FROM PETE WALSH, SCOUT LEADER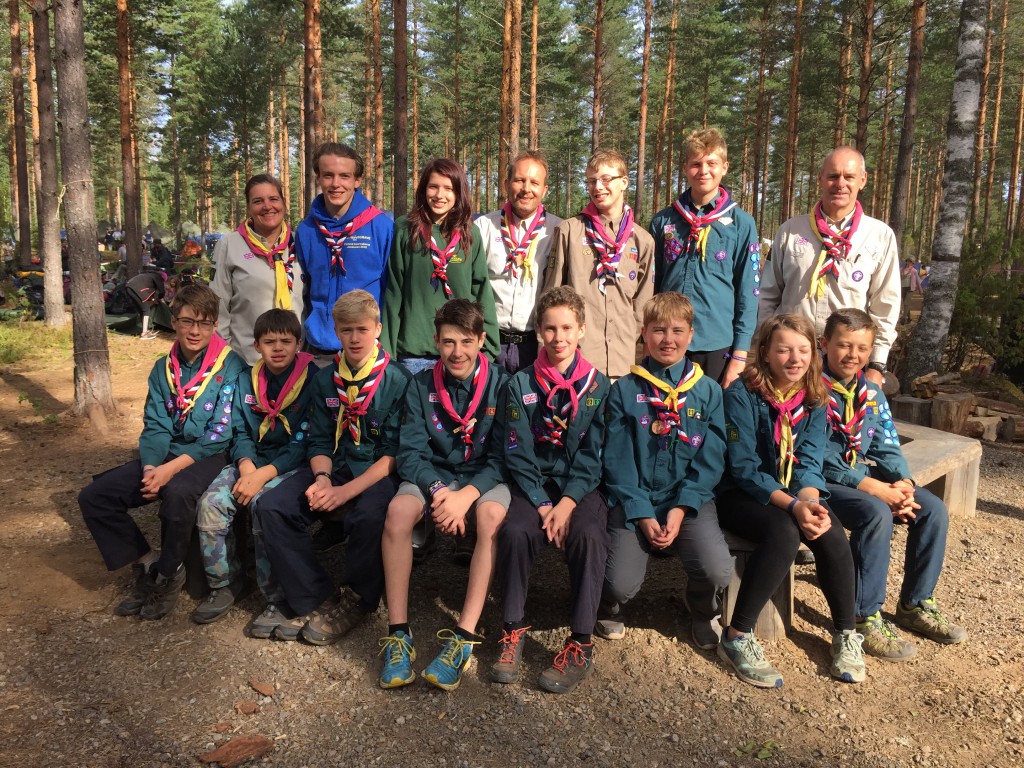 Our Summer camp 2016 was very special with 1st Wargrave participating in the Finland International Jamboree. It was a truly unique outdoor immersive experience, camping in the forest with over 17,000 Scouts from 45 countries. Our group consisted of 12 young people from the village (10 boys and 2 girls aged 11-18) and 3 adult leaders Caroline Atkinson, Paul Worthington and Pete Walsh. Read the Report here: http://wargravescouts.org/Wordpress/finland-leaders-report/
20 to 28 JULY – LIVE JAMBOREE BLOGS AND TWEETS FROM FINLAND, HERE!
We are on our Finland adventure! Scouts are using this blog to write and communicate a brief daily summary of news (we only have an iPhone to blog and tweet with, so don't expect lots of words!). The daily blogs will appear here, on this page (see below).  We will also be tweeting adhoc pictures and information daily via Twitter, please follow us @1stWargrave to get alerts and pictures in real time!
JUNE-JULY 2016 – FINAL PREPARATIONS

Lots more information is now appearing on the Roihu International Website including details of the programme and the kit list. We will hold a parents briefing at the hut on Monday 18th July. Please watch-out emails from Nige, including the one which details our Emergency Contact Procedure whilst we are in Finland.
We are now Tweeting on Twitter, please follow us at @1stWargrave and also you can search using these hashtags #roihu2016 and #finnjamboree
9 MAY 2016 – TEA & CAKE STALL RAISES £89!

With less than 10 weeks till we go, we ran our final Finland fundraising event at Sunday's Loddon District Shelter Building Competition. A big thank you to the Leaders, Parents and Scouts that baked cakes and then sold them on the tea and cake refreshments stall, making £89 profit.  The event was organised by 1st Wargrave Cubs, as part of this year's Cubs100 celebrations with 11 Cubs teams competing.
The Finland Fund is now closed. We have beaten our original target of £2,000, raising a total of £2,165.33 towards the overall cost of the trip.  A great effort by all those involved!

1 MAY 2016 – EQUIPMENT HAS STARTED TO ARRIVE

Less than 80 days to go now and some of our team equipment has started to arrive, ahead of our Finland adventure. Each Scout and Leader will receive a 90L wheeled bag (for hold luggage) and also a 30L rucksack (for cabin luggage).  These will be the only luggage items allowed on the trip.  Exciting times, and not long till we go!
The Roihu organisers have also issued a 7th International Newsletter.
14 APRIL 2016 – BIG THANK YOU TO THE EXEC

At last night's Exec Committee meeting the "Finland budget" was reviewed and our request for a group subsidy to offset the parent and fundraising contributions was formally approved, which is excellent news! The generous group subsidy, together with the fundraising total to-date means that we can purchase essential equipment and offset parent fees for the trip, inline with our budget.
The next installment of the parent contribution, which is £250, needs to be handed to Pete or Nige by the end of April.  Parents also need to email a scanned copy of their Scouts passport photo and also their E111 medical card to Nige.  For more info see Nige's recent parent update email.
The Roihu organisers have issued a 6th International Newsletter.
9 APRIL 2016 – WE MADE OUR FUNDRAISING TARGET WITH 101 DAYS TO GO!

Well done to the 12 young people going to Finland that delivered leaflets to Wargrave homes in March, advertising the Henley On Food Festival which takes place 30th April to 1st May. As a reward for our efforts, they kindly donated £200 to the Finland Fund.  This means that we have achieved the £2,000 fundraising target that we set ourselves, just over a year ago!
The Finland Fundraising total currently stands at £2,076.33
Nige Board our Roihu Trip Leader (and 1st Wargrave Scouts AGSL) has submitted the Finland budget to the Exec Committee, and we await their consideration at the next Exec Meeting.  A request has been made for a group contribution that will enable the parental contribution to be reduced, and fund equipment for our adventure that starts in just 101 days time!
The Roihu organisers have issued a 5th International Newsletter which provides insight into some of the outdoor activities that are planned.
20 MARCH 2016 – 2016 EASTER EGG HUNT DONATION!

A big thank you to the volunteers that helped organise the Village Easter Egg Hunt which took place on Saturday 19th March, organised by a Finland Scout parent, Lesley Thomas.  The refreshments stall made a surplus of £92.22 towards the Finland Fund which was fantastic, and we are very grateful for this kind donation.
The Finland Fundraising total currently stands at £1,876.33
1 MARCH 2016 – WE ARE GETTING CLOSER TO OUT TARGET!

Not long to go!  A contribution from the recent Camping @The Hut 2016 activity means that we are getting even closer to our fundraising target of £2,000!
The Finland Fundraising total currently stands at £1,784.11
We have a few more fundraising activities planned before we go.  We will be back in touch with news, including anticipated parents costs, after the next Finland Leaders meeting on Sunday 13th March.
21 FEB 2016 – 149 DAYS TO GO

We are now all registered, along with over 16,000 others!  There will be over 2,800 people travelling from 45 different countries to the Finland International Jamboree in July.  Big thanks to Nige for successfully navigating the registration process for the 12 young people and 4 leaders in our group! We have a Leaders meeting (Nige, Pete, Paul & Caroline) planned soon to go through the outstanding budget, equipment, transport and fundraising aspects of the trip, and we will post an update on this blog to parents to let you know the latest news.  Meanwhile, the organisers have issued a International Newsletter 4. Also the First Info Letter to Campers has been emailed out to participants.  Both worth a read. …Only 149 days till we go!
11 JAN 2016 – PARTICIPANT REGISTRATION

If you are a parent of a 1st Wargrave Scout that is going to Finland, as per Nige's latest email please complete the registration form that was emailed out today.  It needs to be back before Monday 18th January at the very latest.  Forms can be printed, scanned and emailed back, or simply posted through Nige's door in Twyford.  Thank you!
10 JAN 2016 – HAPPY NEW YEAR, ONLY 191 DAYS TILL FINLAND!

Happy New Year! Soon the trip leadership team led by Nige, will be meeting-up again to plan the remaining fundraising activities between now and July.  We will also be re-establishing contact with the Roihu organisers, working through our airport travel transfers, team equipment, and personal kit lists, and finalising the parent payment schedule (or at least the timing of the next instalment to cover the air fare balance).  We will publish our news on this blog first.
Meanwhile, the Rohiu organisers have issued the Third International Newsletter this week which provides some insight into the activities being planned: http://roihu2016.fi/en/newsletters
22 NOV 2015 – FIREWORK NIGHT FUNDRAISING SUCCESS!

This year at the Village Fireworks the Scout section sold 200 multi-coloured glowstick necklaces, and also some rather tasty sweet kebabs.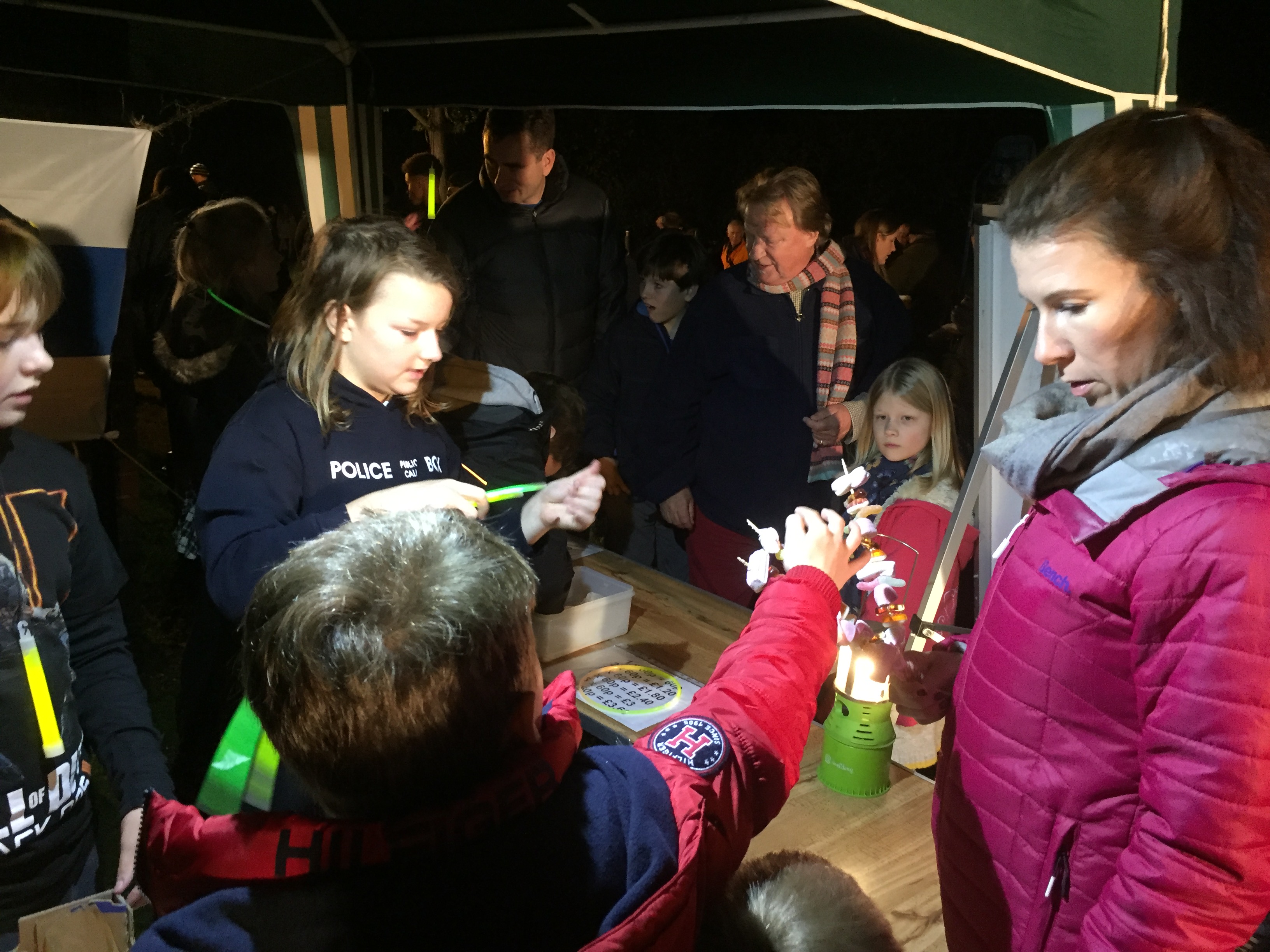 Everything was priced at an affordable 60p each, and we sold out of stock before the fireworks started, making a profit of £132.88 to go towards the Finland Fund.  It was a fun evening, and it was great to see a large number of Scouts staffing the stall and supporting this activity!  A big thank you to everyone that helped on the night to make this a success.
The Finland Fundraising total currently stands at £1,731.36
We will re-start our fundraising activity in the New Year.  Seasons Greetings to you and your family!
30 OCT 2015 – FLIGHTS NOW BOOKED!

We have final numbers for our Finland trip.  12 young people will be going, plus 4 leaders (Nige, Pete W, Paul & Caroline).  Nige is our trip leader.
We spent a lot of time researching various flight options.  Our preference was always to fly direct, and if possible from our closet Airport London Heathrow to minimise the coach transfer time from the Scout Hut.  This meant that we had two options, the national carriers Finnair and BA.  After looking at the group booking quotes for each (including pre-booked seat, baggage allowance and taxes), British Airways was cheapest, so its booked!  Deposits have been paid and our flights are as follows:
OUT – Wednesday 20th July on BA0794 LHR 11.30am arriving HEL 16:25pm
RETURN – Thursday 28th July on BA0799 HEL 17:15pm arriving LHR 18:20pm
We are arranging transfers from the Scout Hut and also transfers at the Helsinki end.  Exact timings of drop-off at the Scout Hut on the Wednesday, and pick-up from the Scout Hut on the Thursday will be advised to Parents nearer the time.  All Scouts must travel together with the group.
27 OCT 2015 – ROIHU INTERNATIONAL NEWSLETTER #2

Roihu have updated their International pages here: http://roihu2016.fi/en/welcome-to-roihu with new information about the planned sub-camps and activities.  A second "International Newsletter" has also been published: http://roihu2016.fi/sites/default/files/roihu2016_newsletter_102015.pdf.  Nige will formally sign-up our troop in November when registration opens.  Camp fees have also been published: http://roihu2016.fi/en/camp-fee.  If you have any questions, please contact Nige or Pete W.
22 OCT 2015 – FLIGHTS AND FIREWORKS

The current organising team (Nige, Pete, Paul) are just in the process of finalising numbers in terms of Leaders and Scouts.  We now have the quotes we need for group booking the flights.  Our plan is to go out on Wednesday 20th July and return on Thursday 28th July 2016.  We will soon book the flights and pay the required deposit.  Our next fundraising activity is selling glow-sticks at the Scout Village Fireworks which takes place on Saturday 7th November at the Recreation Ground.
9 SEPT 2015 – PLANNING AHEAD RESTARTS

Hope you had a relaxing summer break! Scouts has restarted and our thoughts are now turning to fundraising activities for the new Autumn term. We had our Group Exec Meeting tonight and we presented a progress update. Over the next four weeks we will finesse our budget requirements so that we can request an amount of Group funding, which alongside the parental and fundraising contributions will cover our anticipated total costs.
7 JULY 2015 – WARGRAVE FESTIVAL FETE RAISES £746!

We had a fantastic day at the Wargrave Village Festival Fete.  Our fruit selling stall (delicious fresh strawberries and raspberries kindly donated by Sheeplands Farm) and NERF gun shooting alley activity together raised just over £746, which will go towards the Finland Fund. Well done to all of the Scouts, Parents and Leaders that helped on the day!!
The Finland Fundraising total currently stands at £1,598.48
We are now off for the summer. We will start planning flights and airport transfers when we re-start Scouts in early September. Our fundraising efforts have only just started, and we have lots of ideas and activities being planned to raise even more money to help us get to Finland in 12 months time.
Have a great summer break!
29 JUNE 2015 – WE ACHIEVED THE MINIMUM NUMBER, WE ARE GOING!

Finland is on!  We achieved the minimum number of 15 (12 Scouts and 3 Leaders) to make the Finland trip viable and we are now starting to plan additional fundraising activities as well as looking into flights and transfers to get us there and back. We have 12 months before we will be in Finland, and we remain open to additional interest from boys or girls who will be aged 12 at the time of the trip (see Nige's Deposit Letter), who may show interest in joining over the coming months.
21 JUNE 2015 – DRAGON BOATING ADDS TO FUND!

Last Monday, 16 Scouts and 3 Leaders enjoyed a fun summers evening on the River Thames at Longridge near Marlow, Dragoon Boating!  From this event a contribution has been put towards the Finland Fund.
The Finland Fundraising total currently stands at £851.76
On Saturday 27th June 1st Wargrave Scouts will have a stall on Mill Green from 2pm to 4.30pm. We will be selling Fresh Strawberries and Raspberries grown at Sheeplands our local village farm, and we will also have a NERF Gun Shooting Alley in one of the Icelandic Patrol Tents! If you are a Scout or a Parent, please look our for emails and let Pete W know when you can help run the stall. We look forward to raising more funds for our Finland trip!
Please bring your deposit form and cheque to Scouts tomorrow evening!
5 JUNE 2015 – DEPOSIT LETTER

From early July 2015, flights to Finland for 2016 will start to be available to group book and we will need to have confirmed numbers.  To help us start to plan and provisionally look and book flights and airport transfers we need to have a really good idea of numbers – this month.
Please see the Deposit Letter sent to all Scouts, and older Cubs (via Fiona and Richard).  Please return your form with a cheque for £100 made payable to 1st Wargrave Scout Troop, to Nige or Pete W by latest Friday 19th June.
4 JUNE 2015 – WE HAVE RAISED OVER £800 SO FAR

We have made a great start to our fundraising efforts. Our Group Treasurer has confirmed that the "Finland Fund" currently stands at over £800, made up of contributions from the the 2015 Big Camp, Easter Egg Hunt, Camping @The Hut, and an amount carried over from the previous 2011 International Fund.
The Finland Fundraising total currently stands at £841.76
Our next Finland fundraising activity will be at the Wargrave Village Festival Fete on Mill Green, which takes place 2-5pm on Saturday 27th June.  Look out for further details in emails from Nige and Pete W.
26 MAY 2015 – MORE INFORMATION FROM ROIHU

The Finland Jamboree team have updated their main website with information specific to International visitors.  To read about the latest information including a new video, visit: http://roihu2016.fi/en/welcome-to-roihu.  
The organisers have updated the camp program and have confirmed that whilst the Jamboree's outdoor activities are being designed for 12 to 22 years old's, they are happy for younger Scouts to participate, as long as they are at least 11 years old at the time of the event.  Nigel is drafting a letter for parents that will provide a summary of the latest information, and to request a deposit from parents to secure places for Scouts that want to attend.  Roihu have issued their first "International Newsletter" here: http://roihu2016.fi/en/for-international-guests/international-newsletters
23 APRIL 2015 – FUNDRAISING STARTS

Great news, we have just heard that surplus funds from the recent Easter Egg Hunt are to be allocated to the Finland Fund!  Many thanks to everyone that helped organise this annual event around the village, and to those that participated.  We are working with the Group Exec Treasurer to allocate a separate budget for Finland 2015.  This will enable us to closely track and monitor our fundraising efforts.  Funds from February's Camping at the Hut, and from the planned Big Camp will also go into this Fund.  When we have an update on the total, we will publish it here.
10 MARCH 2015 – FUNDRAISING, ALL IDEAS WELCOME

The Scout Leadership team (Nige, Richard, Pete W, Paul) have started to think of ideas for fundraising, but we need your help!  We want these to be your ideas – so the girls and boys that will be joining us next July 2016. We have come up with a few to start with that we are actively looking at: Wargrave Festival Fete Stall, Waitrose Twyford Green Coins, Waitrose Twyford Bag Packing, Glow Stick Selling at the Village Fireworks…  I'm sure you have many others??  Please let one of the Scout Leaders know how you want to help raise funds, and we will add your idea to the list.
27 FEB 2015 – SUPPORT FROM THE EXEC COMMITTEE, WE NOW PLAN TO GO

This week we briefed the Group Executive Committee on our summary plans to attend the Finland International Jamboree in July 2016.  We received their overwhelming support and encouragement to move forward into a formal planning and budgeting stage, which is great news and very exciting!  Subject to further planning, our intention is that Scouts and Leaders from 1st Wargrave will visit Finland in 2016 to represent the UK at this International Jamboree.
We are now starting to look at a number of dates throughout 2015 and 2016 when we can actively fund-raise and we intend to utilise local events like the Wargrave Festival Fete, and updates in Wargrave News, as well as articles in local newspapers to increase publicity.  Importantly we will be looking for ideas and help from the Scouts themselves to make this happen.
Our aim remains to keep this event open to the whole Scout section (including Cubs that will be joining Scouts over the coming months in 2015), and to make it affordable and fun. It will be an amazing experience.  If you have any questions please contact Nige or Pete W.  When we have more news we will post it here.
For more information on the Jamboree please visit the Finland International Scouting Website.
10 FEB 2015 – INITIAL RESPONSE HAS BEEN GREAT

We have had a very encouraging initial response with 15 scouts registering an interest, and it looks like between 3-5 leaders available and able to commit the time required to help us get to the next stage – feasibility and planning.  We now have to build a case to take to the Group Exec to ask for their support and sponsorship.
Once we have a budget prepared we will also start to look at some events in 2015 and 2016 to raise funds.  Before we go we hope to raise £2,000 towards the trip costs.  The aim will be to try and keep the parent costs as low as we can.  Exciting times!  As soon as we have more news, we will post it to this page.
18 JAN 2015 – FINLAND 2016, INTERESTED?

For the past month or so we have been talking about our programme for 2015 and starting to research various camps.  We have also been looking ahead to 2016, and thinking about going somewhere completely different?
Today we are excited to announce our plans for a potential trip to represent the UK at Finland's International Jamboree in July 2016.  Read our very first Finland blog post here and if you are interested please speak to Nige or Pete W.  Please email us to so we can collect initial numbers by the end of January please.