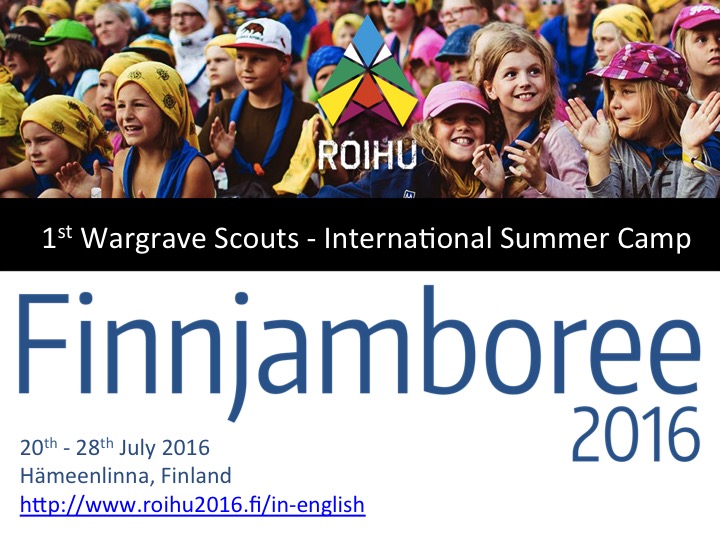 For 2015 we already have two camps in the programme; in February we "Camp in The Hut" and in May we will join the Loddon District "Big Camp" at Dorneywood. Our summer camp will likely be a 4-5 day trip to somewhere in the UK in late July or early August but is dependent on Scout numbers.  If we don't get to camp over the Summer holidays, we are already looking at a possible overnight camp in September.
The opportunity to camp abroad, to experience a different culture, to meet other Scouts and to represent your country at an International Jamboree is a very exciting one.  It is something that we have been looking to do at 1st Wargrave for some time. Our last foray overseas was to Ireland in 2009.
We have been looking at what we might do in 2016 and we have an opportunity to take the boys (and maybe some girls by then too!), to an International Jamboree in Finland, in Hämeenlinna, 96km north of Helsinki.  Dates are 20th July to the 28th July 2016 so just after the end of the Summer Term.
We anticipate the cost per Scout to be circa £450 for the week which includes all food, outdoor activities, airport transfers and flights. If we choose to run the event we would need to seek support from our Group Executive and would then use 2015 and 2016 to run some fundraising initiatives that could potentially offset some of the costs – but at this stage £450 is the anticipated parent contribution.  Here is some further information:
Finland International Jamboree 2016
Website: http://www.roihu2016.fi/in-english
PowerPoint presentation: http://www.partio.fi/en/events/finnjamboree-2016
Facebook: https://www.facebook.com/Roihu2016
Instagram: http://instagram.com/Roihu2016
Twitter: @Finnjamboree16
We know that this will take a considerable amount of planning and commitment from the Scout leadership team to make such an International trip happen.   Before we make a start, we need an idea of those that might in principle be interested to attend. This is not a firm commitment, but please don't say yes unless you think there is a strong possibility that, if the trip is arranged, your son/daughter will sign up.  Please let us know by 31st January if your son would be potentially interested in visiting Finland in 2016 with 1st Wargrave Scouts!
We will update the website with more information and news as we progress this idea.  If you have any questions please do let us know: Scouts@wargravescouts.org
For the latest news visit the FINLAND BLOG page.