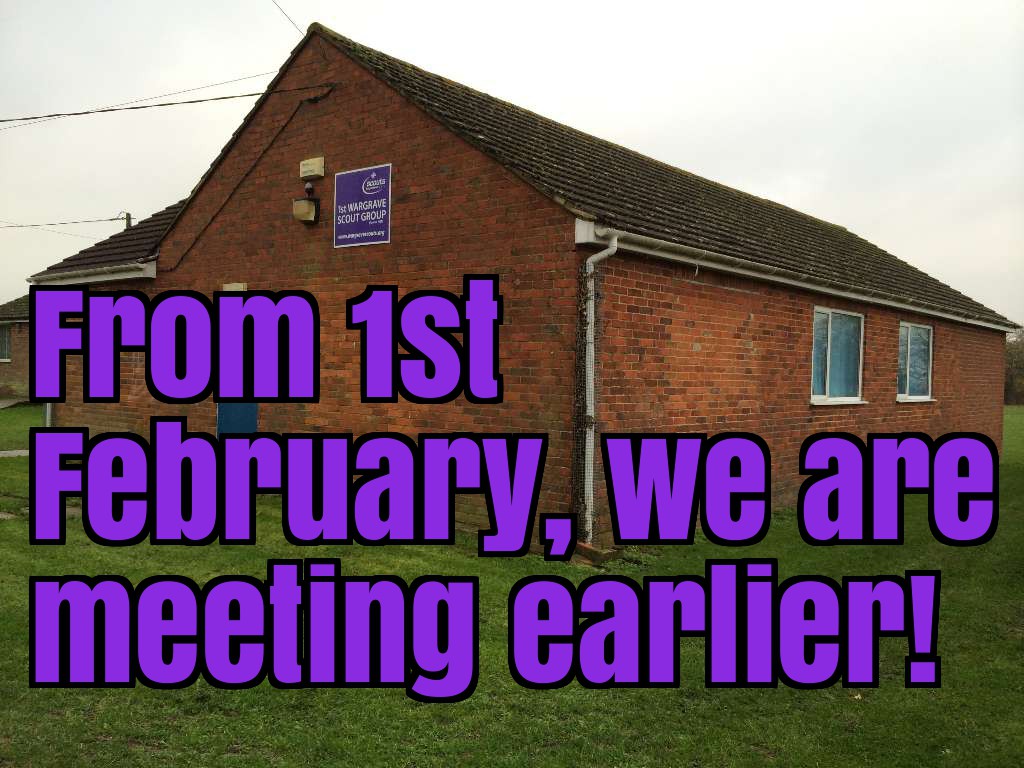 We have a fun-packed Spring Term Programme planned to take us up to Easter.  We are also changing our meeting times.  Following feedback from parents, from the 1st of February we will be trialling an earlier start time of 7pm, and an earlier pick-up time of 8.45pm.
We have a young pack and we recognise the impact that a late night can have at the beginning of a school week, so we are going to try out some new times.  As we progress through the term we would welcome feedback from parents on the earlier start and end times, please email scouts@wargravescouts.org
This term's highlights include our super popular "Camping @The Hut" activity.  This will be our third year we have run this event which involves Saturday afternoon games up in Bowsey Woods followed by a hot supper before sleeping in hike tents – that we pitch inside our warm heated hut!  The event ends after a "Full English" breakfast that the Scouts cook on the Sunday morning.
We will be doing lots of cooking, and we have a professional chef visiting us to teach the boys and girls how to joint a raw chicken, before cooking a scrumptious meal.  And of course we will be making pancakes, but this year we will be racing pancakes too! Last year we celebrated Burns Night, and this years its the turn of the Irish – we will celebrate St. Patrick's Day by cooking a traditional Irish Meal of bangers and colcannon!
For our "Troop Night-out" we will re-visit Wokingham Super Bowl for a game of Laser Quest, and towards the end of the term we have our Spring Night Hike from Dinton Pastures to Twyford station.  In-between, we will continue our focus on badge work and learning and trying out new things; we will complete the Navigation Stage 2, and Fire Safety Activity Badges as well as providing opportunities to cover topics that will contribute towards the new Challenge Badges, like the new Outdoor Challenge. The Leap Year Engineering and the Indoor Pioneering evenings will count towards the new Teamwork Challenge Badge.
Just after Easter, we will start on our "A Million Hands" project.  UK Scouting's "A Million Hands" programme involves mobilising half a million Scouts in support of four social issues chosen by our young people.  From dementia to those disabled by society, from improving the mental well-being and resilience of our communities to ensuring everyone, everywhere has access to clean water and sanitation.  These are big issues of our time, and young people want to tackle them head on. The aim of the A Million Hands programme is to build real and lasting relationships in communities that will enable young people to continue taking social action long into the future. The UK Scout Association will be marrying a Movement of over half a million people, reaching into every community across the UK, with the knowledge and expertise of organisations committed to social change.  The objective is to help our young people keep their promise to help other people.  At 1st Wargrave, we we will be focusing on exploring mental well-being and we have plans to help a local charity that supports children with special needs and their families.  This is an exciting youth-driven national programme and we look forward to making a difference. 
Over the year, together with Loddon District events, we plan to offer a total of 14 nights away camping, including our Summer Camp to the Finland International Jamboree.
We look forward to an adventure-packed 2016 at 1st Wargrave Scouts!

Download: 1st Wargrave Scouts Spring Term Programme 2016 v1 (PDF file)