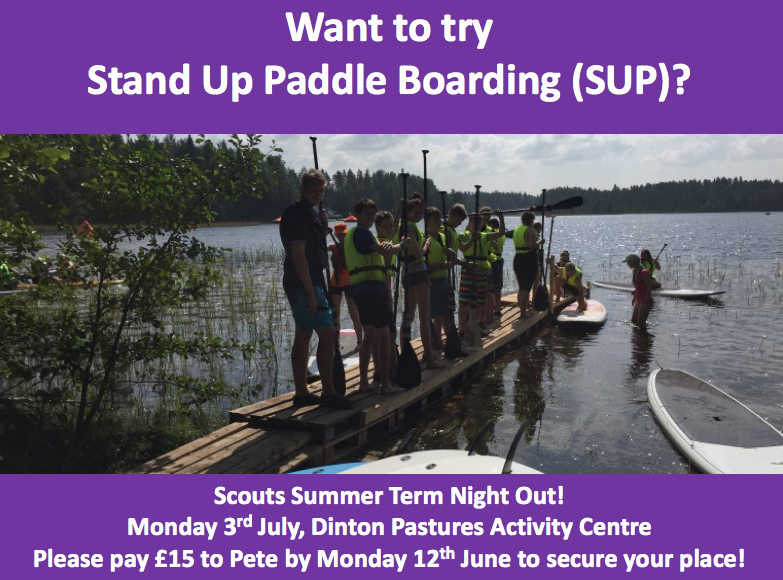 Summer has arrived and we intend to make the most of the warm weather! Our focus will be on outdoor activities for the rest of the term. We will be spending time up in Bowsey Woods cooking and orienteering, plus we have a visit to the Stanlake Meadows Assault Course in Twyford.
We have a renewed focus on the UK Scout Association Challenge Badges in-particular the Teamwork, World and Personal Challenges and we have several activities planned that will enable all of the Scouts to try and achieve these awards.
Wargrave Scouts will also support our village community in a number of activities that are taking place as part of the Wargrave Festival. We will be providing water stations at the Wargrave 10k on Sunday 11th June. On Saturday 24th June Scouts will be joining in the Festival Parade, as well as selling fresh fruit and staffing our NERF Gun Alley on Mil Green.
A highlight of the term will be our "Troop Night Out" to Dinton Pastures to try "Stand Up Paddle Boarding" (SUP). A number of Scouts enjoyed this fun activity at our Finland International Jamboree Summer Camp last year. Scouts had great fun balancing, racing and then performing tricks on the boards!
Summer term ends on Monday 17th July with a traditional BBQ party and we will also organise some NERF gun battles inside and outside the hut!  Our Concorde Summer Camp takes place at Walton Firs in Cobham between July 27th to July 30th. Here's to a fun summer term!
Download our Summer Term 2017 Programme (PDF File)