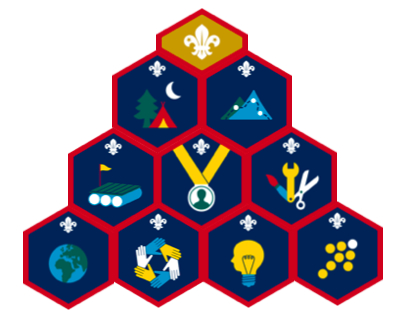 Whilst it's been wet and cold outside, Wargrave Scouts have been busy during January and February completing tasks for various Challenge Award badges that count towards the Chief Scout Gold Award, the highest award in the Scout section.
In the past 2 years we have had 5 Scouts (Nathan, Thomas, Christopher, Jamie and George) achieve this badge. It's tough to get and not all Scouts manage to complete all of the 9 badges required. We cover the whole curriculum on Monday evenings and at various Camps and Loddon District and Berkshire County Scout events. Everyone that joins Scouts at 10.5 years till they leave to join Loddon Explorers at 14.5 or 15 years has an equal chance – subject to regular attendance. We look forward to a few more Scouts achieving Gold in 2018!
In the first half of the spring term programme we focussed on the Adventure, Outdoor and Teamwork badges and this enabled a large number of these badges as well as the Skills badge to be awarded. Scouts enjoyed a games evening, a camp hygiene, first aid and gadget building night, and pancake making!
The Patrol Leaders have also been working towards their Team Leader and Expedition Challenge badges. The Expedition Challenge involves a 2-day overnight trek to study a point of interest along the route, and this is planned to take place in April in the New Forest.
In the second half of this term we welcome 3 new Scouts (Jazz, Jacq, and Chloe) from our Puma (Tuesday) and Wildcat (Thursday) Cub sections which will take us to 25. We have a number of activities in our programme before Easter and these include a Social Media Evening, a #YouShape Troop Forum, our famous "Chip Shop Evening Hike" from Dinton to Twyford Station, and our "Troop Term Night Out" which will be at the at the new Wokingham Superbowl LaserQuest.
A highlight of this term will be our "Winter Camp @The Hut" and this is our 4th year of doing this camp. Its a fun introductory camp for new Scouts and also is usually well attended by our older Scouts.  We meet in the Hut and pitch tents inside (so in the warm!) and then hike up to Bowsey Woods to play wide games and toast marshmallows. Scouts then return to the Hut to eat a pasta meal together, watch cartoons, drink hot chocolate and then sleep! After packing away the tents, Scouts cook a Full English breakfast and then parents pick-up early on the Sunday morning.
The spring term finishes in the last week of March with the 1st Wargrave Easter Egg Hunt on the 24th. This involves a number of routes in and around the village including an Orienteering course in Bowsey Woods which is always popular with families and teams of Scouts.
The latest Scouts spring term 2018 program can be downloaded here (PDF File).